[ad_1]

Non-fungible token (NFT) platforms in China are expanding into Hong Kong to offset compliance risk for an industry that remains in a legal gray area on the mainland. It helps that the city has thrown out a welcome mat for digital asset industries.
ShucangCN, an NFT platform that launched in January 2022 in China to quickly become one of the largest players, has set up NFT China Ltd., a decision its chief executive officer said he made after the territory released crypto-friendly policy documents in October.
"We're in the process of launching a simple NFT platform in Hong Kong in about two weeks that can facilitate NFT airdrops," Pengfei Wang, CEO of ShucangCN, told Forkast in a phone interview on Thursday. Sales and trading features will follow when the team sets up payment routes, he said.
Yifan He, chief of Red Date Technology, the developer of the state-backed blockchain infrastructure Blockchain-based Service Network, said in an interview that mainland clients who built NFT platforms on BSN plan moves to Hong Kong, and "they're discussing with our Hong Kong team to build their platforms there."
China banned cryptocurrency transactions in 2021, but Hong Kong in contrast has set up a new licensing regime that may eventually extend to retail cryptocurrency trading. Current regulations in Hong Kong, a special administrative region of China, allow only institutions and professional investors with portfolios of US$1 million or more to trade digital assets. 
Although Chinese regulators have yet to spell out hard and fast rules for NFTs, state media have attacked "speculative behavior" in the sector. But that hasn't stopped China's consumers from buying and trading digital collectibles, and many platforms, including ShucangCN, offer such services.
Making money
In 2022, ShucangCN had about 30 million yuan (US$4.5 million) in revenue with a gross profit margin ratio of 30%, said CEO Wang. In June, it launched its main NFT trading platform Huashu Wenchuang in collaboration with Chinese cultural equity exchange Huaren Exchange Center of Culture Property, a platform that typically trades property rights and ownership of traditional artworks, and saw tens of millions of yuan of NFT trades through the end of last year, according to Wang.
Tony Fu, head of ShucangCN's Hong Kong entity, told Forkast that secondary trading remains in legal limbo on the mainland, which could bring compliance issues in the future, hence the plan "to set up a secondary trading platform in Hong Kong."
He at Red Date said Chinese regulators are particularly strict about businesses that come with unauthorized capital pools, as the practice often carries high risks for investors. But to earn commissions, NFT trading platforms process transactions through capital pools, He added.
"All cultural equity exchanges that operate secondary trading are all against the law, as they don't have the licenses to run secondary market businesses with capital pools involved," He said.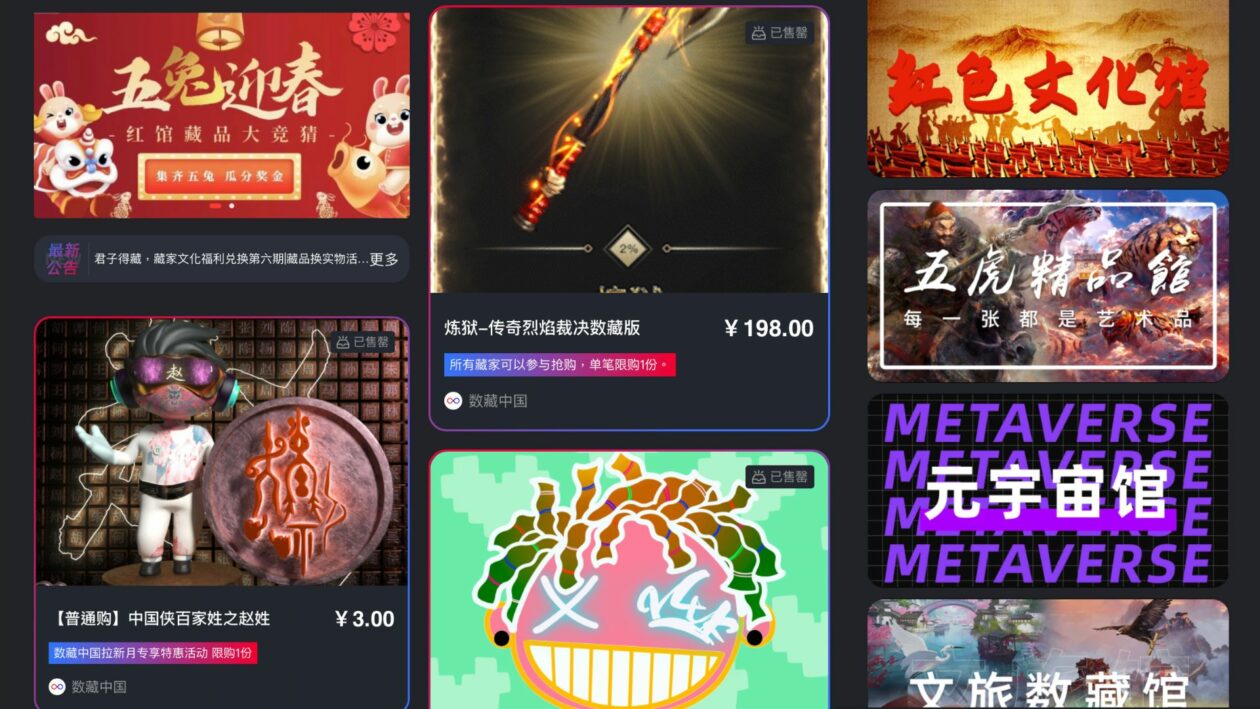 Hong Kong platform
ShucangCN's future Hong Kong platform will allow mainland users to transfer their "digital collectibles" – the term for NFTs on the mainland – to the company's Hong Kong marketplace and trade there, Wang said.
"Once our secondary trading platform in Hong Kong is set up, users can choose to mint and trade directly in Hong Kong, or they can mint on the mainland platform and trade in Hong Kong," Wang said.
BSN would play an essential role here, He of Red Date said. 
Chinese mainland platforms that mint digital collectibles with BSN-DDC, a domestic BSN network, can transfer the NFTs to BSN's overseas network Spartan or Ethereum and even trade on OpenSea, according to He.
"There is no [legal] issue transferring NFTs out of the mainland, as there's no personal information attached to them. But you cannot transfer any income from trading back to the mainland. That would be illegal and considered money laundering," He said.
Hype slowing
The explosion in NFT interest took off in China in 2021 and reached a peak around May and June of last year, before slowing down significantly and bottoming in October, according to Wang.
Wang said on the mainland, the company will focus on exploring the utilities of digital collectibles.
"Until now, many people bought NFTs for collecting or trading purpose. We're hoping to explore more possibilities," Wang said. He added that ShucangCN is collaborating with a virtual reality company to create digital collectibles linked to assets or buildings in their virtual world.
The Hong Kong entity has submitted an application to be part of the incubation program of Cyberport, a technology business park backed by the Hong Kong government.
The ShucangCN and NFT China officials said they aim to generate a combined 50 million yuan in revenue for 2023, compared to 2022's 30 million yuan. 
State player?
While doubts persist over the legitimacy of NFT trading in China, state-owned entities China Technology Exchange and Art Exhibition China, along with blockchain developer Huaban Digital Copyright Service Center, on Jan. 1 this year launched a digital collectibles trading platform "China Digital Asset Trading Platform", according to state media reports. 
Its website, however, only said the platform is "coming soon" and that it is accepting collaboration applications.
"It's a bold move to publicly market itself as a secondary trading platform," He of Red Date said of the new entrant, adding that he had warned the platforms built on BSN not to engage in secondary trading.
Despite regulatory uncertainty, Wang at ShucangCN said there is still a business to be made on the mainland.
"Trading platforms in China put speculation prevention as first priority," Wang said, adding that platforms such as iBox have operated for quite a long time and avoided strict government restrictions. 
"So far, it seems the risks are controllable," Wang said.
[ad_2]

Source link