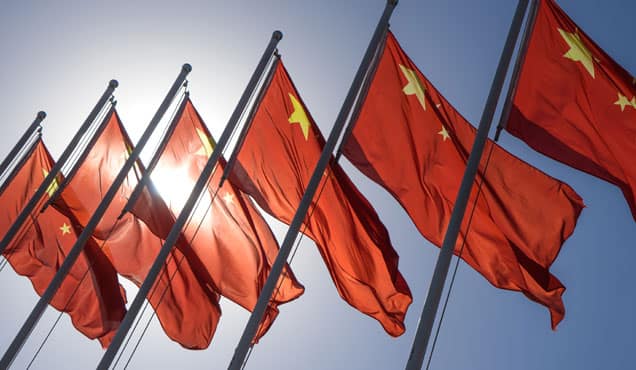 China has unveiled its long-awaited national blueprint to
develop a clean hydrogen industry, setting out a near-term
production target while pledging to increase the low-emission
fuel's usage across various sectors.
With the world's largest GHG-emitting nation aiming for peak CO2
emissions by 2030 and carbon neutrality by 2060, some Chinese
provincial governments—including Sichuan and Hebei—have
already published hydrogen development plans for the 2021-2025
period.
On 23 March, China's top economic planner National Development
and Reform Commission (NDRC) and energy regulator National Energy
Administration (NEA) released a development plan to build a
hydrogen supply chain in 2021-2035, laying out a series of policy
guidelines at the national level for the first time.
"We are making it clear that we are going to create a system
where we will have clean, low-carbon, and low-cost hydrogen
production," said Wang Xiang, deputy director of the NDRC's
high-end technology department, in a press briefing.
China is aiming to produce 100,000-200,000 metric tons (mt) of
the so-called green hydrogen from renewables per year by 2025,
which will help reduce CO2 emissions by 1-2 million mt/year,
according to the plan. This would be far less than 1% of China's
annual emissions of nearly 14 billion mt of GHGs.
Figures from the China Hydrogen Alliance, a Beijing-based trade
group, suggest that the country currently produces around 33
million mt/year of hydrogen, nearly all of which is from coal
regasification, gas reforming, or various industrial processes. The
output is generally categorized as gray hydrogen.
"Our focus is to produce hydrogen from renewable energy and
limit production from fossil fuels," Wang said. "We have the
largest installed capacity of renewables, so we have great
potential in raising our clean, low-carbon hydrogen supply."
S&P Global Commodity Insights data shows 124 MW
electrolyzers were commissioned to produce hydrogen in China at
end-2021, though it's not known whether they are fully powered by
renewable energy. Another 1 GW in electrolysis capacity is due to
come online in 2022 and 2023.
China's installed renewable capacity reached 1.063 TW at the end
of 2021 and will continue rapid expansion in the coming years,
according to the government. Renewable projects generated 2,480 TWh
of electricity in China last year, or 29.8% of the power mix.
Beijing's goal is for non-fossil fuels' share to reach 39% by
2025.
"There are already enough projects in the pipeline to support
the targeted level [of green hydrogen production]," said S&P
Global's Megan Jenkins, senior research analyst at ENR, adding that
she however observes some demand uncertainty.
Who is to use hydrogen?
Like some other countries, China views the road transportation
sector as an initial demand source for green hydrogen.
Last year, the central government it would provide subsidies for
the value chains of automobiles powered by hydrogen fuel cells
around Beijing, Shanghai, and Guangdong. Each of the metropolitan
areas can receive up to ¥1.5 billion ($235 million) for fuel-cell
vehicles and ¥200 million for hydrogen supply during a four-year
demonstration period.
China is targeting to have 50,000 hydrogen fuel-cell vehicles by
2025, according to the national hydrogen plan. S&P Global's
Platts Analytics estimated there were around 7,700 such vehicles
last December.
But analysts believe Beijing needs to further refine the current
subsidy scheme, which does not favor green hydrogen over gray
hydrogen. Matching up green hydrogen production with the vehicle
demand centers is also difficult, said Jenkins. "A lot of these
green hydrogen projects are located in remote regions on giant
renewable energy mega-bases."
In the national plan, the government said it will promote the
buildout of logistics infrastructure, set quality and safety
standards, and increase the number of refueling stations with a
daily hydrogen dispensing capacity of more than 1,000 kg.
China also plans to promote the usage of green hydrogen in the
power storage, utility, industrial, aviation, and maritime
transportation sectors.
"We will actively explore how to apply fuel cells to vessels and
aircrafts, and we will begin research and development of large
airplanes that can be fueled by hydrogen," the plan said. "We will
promote the low-carbon transition of ammonia and synthetic methanol
production with hydrogen."
Stronger capacity
China has more than 300 companies involved in the hydrogen supply
chain, mainly in the coastal areas, according to the government.
Looking forward, the government wants to enhance the industry's
technological capabilities and reduce its electricity costs.
The country's manufacturing capacity for electrolyzers is
expected to reach 1.5-2.5 GW this year, but Beijing believes
Chinese firms have to enhance their ability in developing critical
materials and innovate on fuel cells, with the proton exchange
membrane fuel cells highlighted as an area of focus.
"Compared with more advanced standards abroad, China's hydrogen
industry lacks the ability to innovate and has lackluster technical
capabilities," the plan said. "We will enhance cooperation with
countries and regions with better technologies.
"We will actively participate in establishing international
standards for hydrogen with overseas partners and explore trade
opportunities with Belt and Road countries," it added.
China's central government will also develop more policy
instruments to promote the industry and take a leading role in
infrastructure planning for local governments, according to the
plan. In an ideal scenario, the heavily industrialized provinces
will initially use byproduct hydrogen, while the provinces with
rich renewable resources start with some pilot green hydrogen
projects.
"All local authorities need to take into consideration their
supply capabilities, industry infrastructure, and make space when
it comes to future development," Wang said.
China has yet to set any quantified targets for hydrogen
development beyond 2025. But the country wants to have "a
relatively comprehensive supply chain" by 2030 for the peak CO2
target and "a significant increase" of hydrogen's share in final
energy consumption by 2035, according to the plan.
Posted 23 March 2022 by Max Tingyao Lin, Principal Journalist,
Climate and Sustainability
---
This article was published by S&P Global Mobility and not by S&P Global Ratings, which is a separately managed division of S&P Global.