[ad_1]

As new electric vehicle brands and models come to market, market
shares are changing accordingly. Tesla remains the dominant player,
but its share gradually has been declining since the fall of 2021,
as shown below. From 77.8% in November 2021, Tesla's EV share has
dropped more than 20 percentage points to 57.1% this past November.
Put another way, Tesla's one-year decline itself is equal to more
than a fifth of the entire US EV market. At the same time, EV
shares of non-Tesla domestic brands, the Koreans, Volkswagen, and
the three German luxury brands have risen.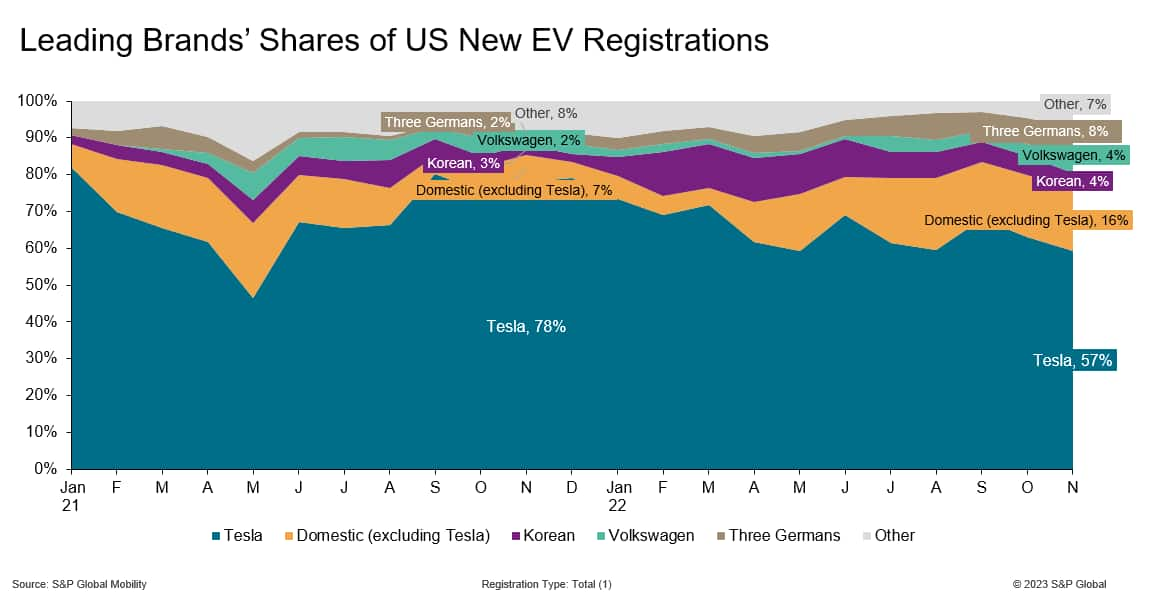 One reason for Tesla's decline is the increase in EV model
count. Fifty-one EVs now are available, a 59% increase from 32
models just one year ago. These new models accounted for 10,390 new
registrations in November 2022, equal to 15.1 % of the EV market.
Four of these new entrants, including the Ford F-Series Lightning,
BMW i4 eDrive40, Hyundai Ioniq 5 and Rivian EDV, by themselves had
6,018 deliveries in November or 58% of all new EV model
registrations.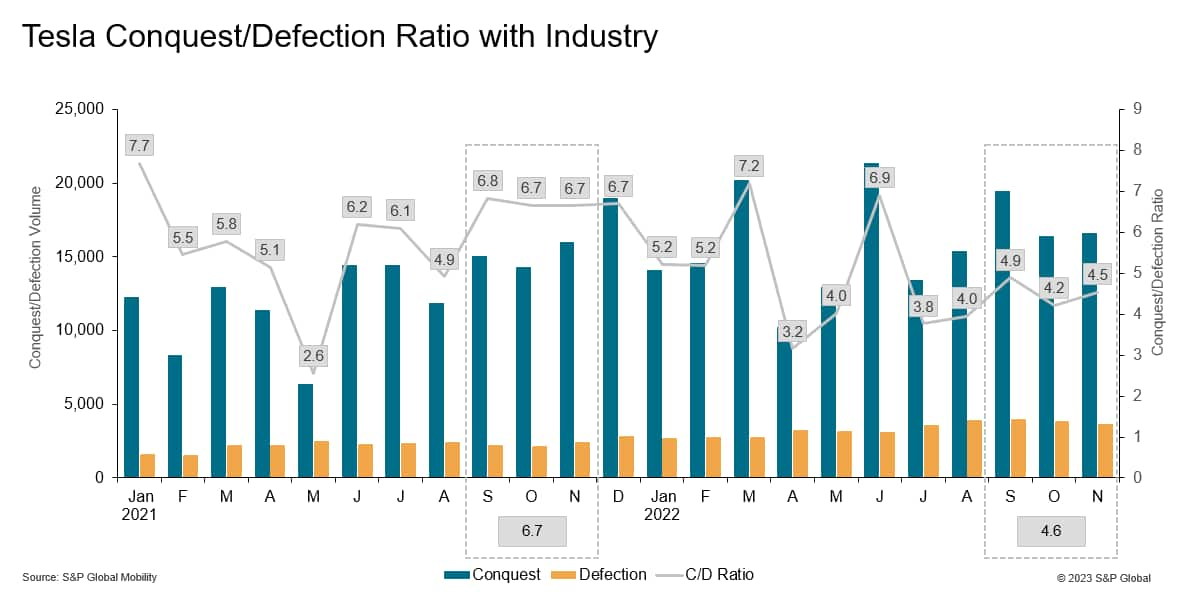 A second – and related – driver of shifting EV brand market
shares is the change in migration patterns from ICE (Internal
Combustion Engine) to EV. Households with an ICE vehicle in the
garage that return to market and acquire an EV are acquiring a
Tesla at substantially lower rates than a year ago – this is true
for all makes except Porsche, where the decline is marginal. Of the
15 mainstream and 13 luxury brands with significant return to
market volumes this past fall, everyone had fewer owners (who
acquired an EV) migrating to Tesla versus the year before. The
chart below illustrates that the change in movement to Tesla
declined by 20 percentage points or more for five of the fifteen
mainstream brands and three of the thirteen luxury brands.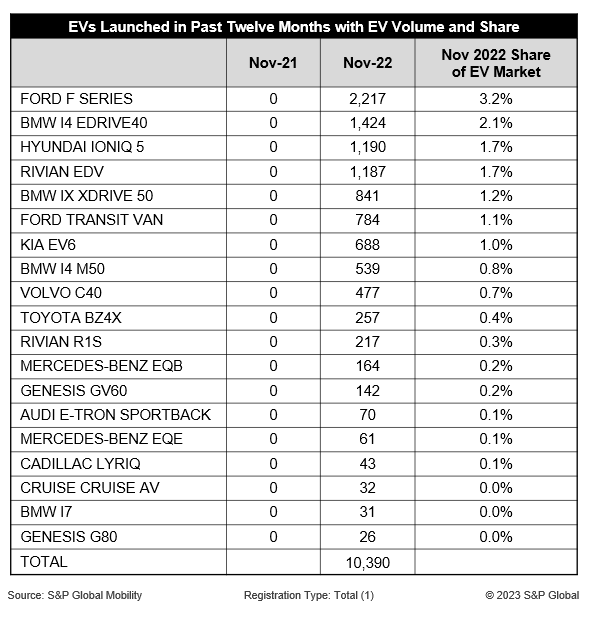 This decline in industry-wide movement to Tesla is supported by
S&P Global Mobility conquest and defection data. As shown
below, while Tesla's conquest/defection ratio has been erratic, it
clearly is down this past fall when compared to a year ago,
dropping 2.1 points to 4.6. Lower migration from non-Tesla brands
to Tesla, everything else being equal, lowers Tesla conquests which
lowers its ratio.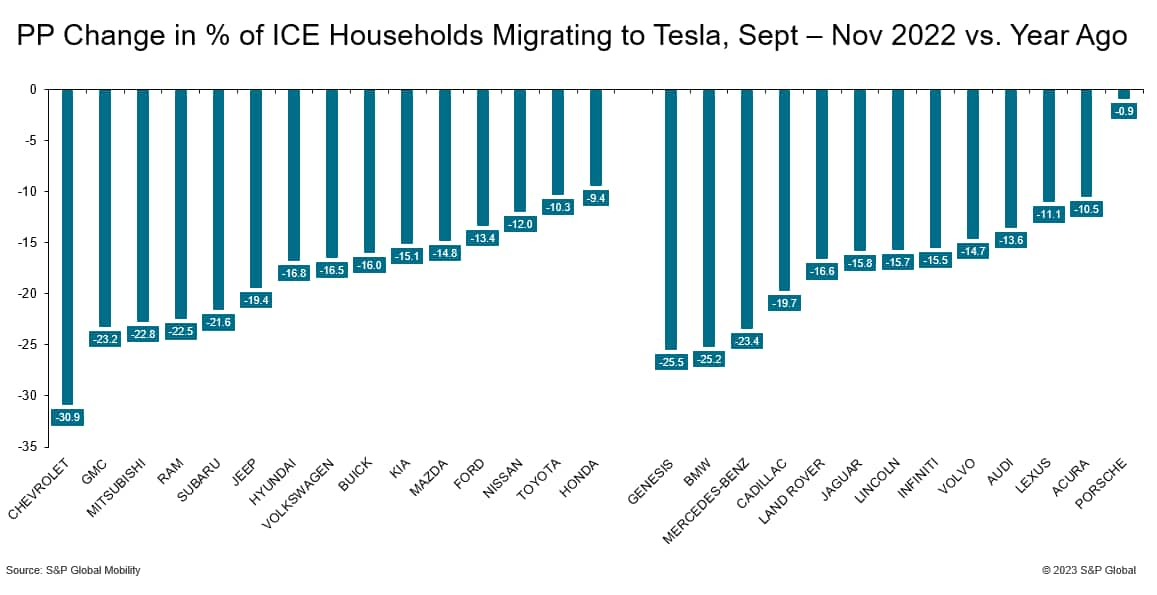 The growth of the US EV market will accelerate as more models
arrive. There are 51 models on the market now (with at least one
new registration in November), and this will rise to 78 by the end
of 2023; then the EV model count will more than double to 160 by
the end of 2025. This influx will put downward pressure on EV share
for all brands, including Tesla.
Note: All market share calculations are based on total new
light-vehicle registrations.
——————————————————————————
Top 10 Industry Trends Report
This automotive insight is part of our monthly Top 10
Industry Trends Report. The report findings are taken from
new and used registration and loyalty data.
The December report is now available, incorporating November
2022 CFI and LAT data. To download the report, please click
below.
---
This article was published by S&P Global Mobility and not by S&P Global Ratings, which is a separately managed division of S&P Global.
[ad_2]

Source link