Research suggests that about 40% of brands are exploring ways to expand their data-driven budgets in marketing. Realizing the true value and potential of data has been instrumental in the digital transformation of corporations, and most businesses are ostensibly data-driven today. 
Marketing is one of the functions that is increasingly depending on data to personalize experiences for customers. However, data is only as useful as the tools and technologies used to augment it. 
And hardly any platform enables businesses to squeeze every last ounce of value from customer data like a Customer Data Platform (CDP). Therefore, it comes as no surprise that the global CDP market, worth $3.5 billion in 2021, is projected to grow 5x at a compound annual growth rate (CAGR) of 34.6% by 2026.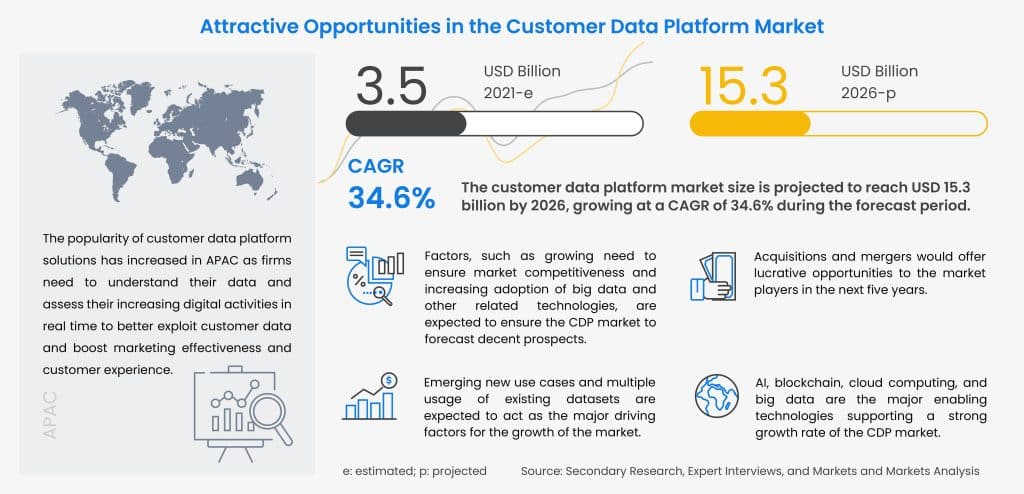 CDP Market Share
To understand more about how the CDP market share is projected to grow, here are the trends based on region, sector, and type:
By Region
The CDP market has its most significant share of growth in North America, followed by Asia-Pacific and the European Union. Due to the high focus on technological advancement, the US accounts for 45% of companies building CDP solutions, 61% of employees working on CDP solutions, and 75% of funding. However, Asia-Pacific is expected to grow quickly, with the highest CAGR by 2026.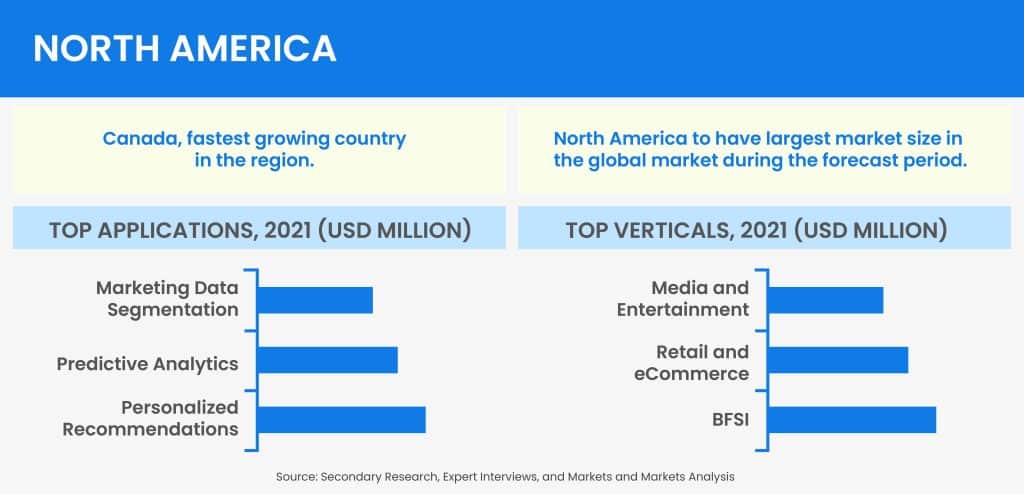 By Sector
Industry wise, CDP finds high usage in banking, financial services, and insurance (BFSI), retail and commerce, healthcare, IT and telecom, and hospitality sectors.
BFSI: With the growth of online banking in the past few years, this sector is making heavy investments in customer engagement and customer relationship management. Gartner suggests that conventional financial firms will become irrelevant by 2030, making it imperative for them to invest in customer experience technologies such as CDP.

Retail: The retail industry is leveraging customer data platforms to offer personalized omnichannel customer experiences. For example, if a customer wish lists a product on a brand's online store and decides to purchase it from an offline store, the unified customer profile that is updated by a CDP in real time allows the brand to understand the customer's current preferences and make relevant recommendations in store.

Healthcare: During the pandemic, the healthcare sector saw extremely high volumes of data flowing in and most customers required immediate treatments. With a CDP solution, hospitals can store that data centrally to view patients' medical history and offer on-time personalized treatments.
By Type
Based on type, the CDP market is segmented into access, campaign, and analytics. While most marketers are still looking at data access, campaign CDP is getting traction because of its ability to activate audiences in real-time, presenting an opportunity for personalized marketing. 
Meanwhile, the demand for analytics CDP is increasing due to automation of customer journey for optimized customer interaction and AI/ML-based modeling for increased personalization.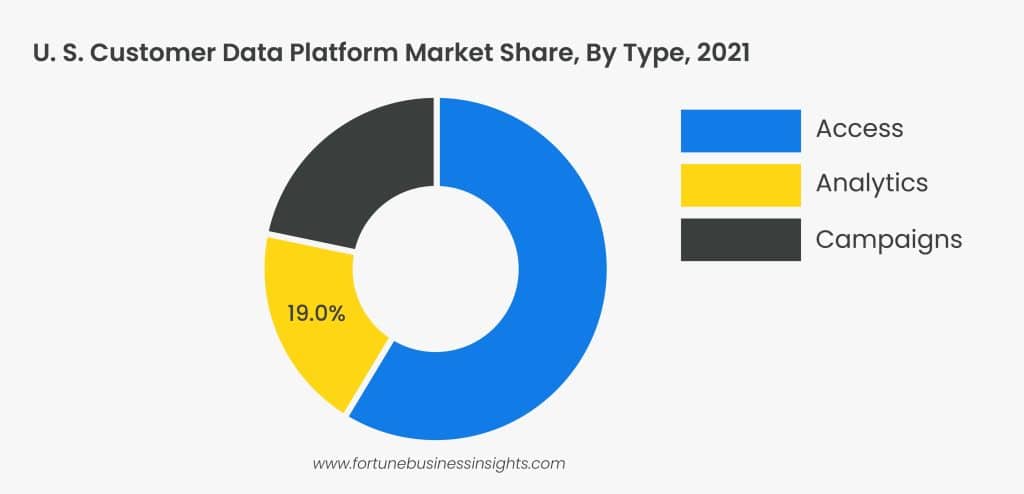 Factors Driving the Growth of the Global CDP Market
The growth of the global CDP market reflects the proliferation of engagement channels. Customers today switch between online and offline channels as they research products, complete transactions, and engage with various brands online. 
In other words, customer data comes in from different sources and in different forms. It is imperative for businesses to make sense of all this data.
That's where CDP comes in. The capabilities within CDP help collect and create a unified profile for each consumer, which enables businesses to keep track of their individual preferences in terms of products, services, or overall brand perception. Therefore, CDP helps businesses make sense of all the data they collect from their customers.
Let's discuss the three critical reasons why more businesses, especially B2C companies, are adopting CDP to better leverage customer data.
Personalization in Consumer Experience
Most customers today have gotten used to personalized interactions and marketing, with nearly three out of four individuals actively expecting it from every business. Also, most consumers tend to become repeat customers of a brand that provides personalized interactions and customer service. 

Therefore, providing personalization is no longer a luxury but a necessity for businesses and marketers, making it imperative for businesses to use CDP for hyper-personalization. CDP supports personalization by providing a real-time audience with a 360-degree view and insights of customers.

CDP gathers all kinds of data—behavioral, transactional, and demographic—before creating a dynamic, constantly evolving customer profile for each consumer. This profile gets updated with every customer interaction and enables businesses to send personalized emails and messages, provide targeted adverts, and offer other solutions tailored to customer needs.

Increased Emphasis on Data Security
Due to growing stringency in data protection laws across the world, such as the EU's GDPR and China's PIPL, businesses are expected to prioritize cyber security and data protection. Google is also phasing out third-party cookies soon to make data sharing more consensual for netizens.

CDP helps with managing opt-in and opt-out, right to forget and right to access, which is in compliance with regulations such as GDPR. 

By capturing the first, second, and third-party data and providing the flexibility to adapt to changing regulations, CDP proves to be a superior consumer data management solution compared to other platforms, such as Data Management Platform (DMP), which primarily relies on third-party data. CDP helps improve the safety of personal customer data possessed by businesses, making it a major driver of the booming CDP market.

Omnichannel Experiences
With an increase in digitization, customers have become channel-agnostic. Therefore, it's critical to deliver a consistent user experience even if a customer switches between online and offline channels.

Businesses must find a way to integrate offline and online channels so that consumers can seamlessly move through them and continue their journey without any friction. A CDP uses real-time customer data from across channels to deliver contextually relevant experiences to users across the channels of their choice.

Increased Technology Costs
The cost of software implementation and data augmentation is increasing in today's data-driven marketing landscape. Marketers constantly seek ways to reduce these costs, and CDP offers a viable solution.

A CDP digitally manages several tasks, such as customer profile creation, data curation, user analysis, and more. Therefore, by implementing a one-stop solution to handle multiple marketing functionalities, marketers can save considerably on budgets.

Real-Time Contextual Engagement
Nearly all sectors in the world are saturated with intense competition. Amid such competition, the ability to tailor experiences as per a customer's preferences and current context can be a big differentiator.

For instance, a quick-service restaurant sending a 'Buy one, get one free' offer to a person who usually buys a meal for one isn't helpful. Instead, the person would appreciate an offer on their favorite meal. CDP helps marketers leverage such insights and make each engagement relevant and meaningful.
Elevate Your Brand's Customer Experience with a CDP
Omnichannel personalized experiences are more important than ever. With a paradigm shift in customer expectations, businesses across industries and geographies are investing in customer data platforms. 
However, to reap the benefits of CDP, you need to select the right service partner. Algonomy's Real-time CDP enables contextually relevant engagement in the moment with capabilities around streaming data ingestion, unified customer profiles, and real-time audience activation.
Schedule a demo with our experts to learn how Algonomy can set your marketers up for success.